Read the previous part
HERE
It was their first child. Rajeev left no stone unturned to make Meera comfortable. They even hired a maid to look after the house, much to the annoyance of his parents. Meera had a rough first trimester, staying in bed most days as she felt weak with the frequent bouts of nausea and vomiting. The thought of her child and Rajeev's tender care kept her going through the difficult days. They had so many dreams for their child and often kept talking about their new family.
She had hardly been into her second trimester when she had to be rushed to the hospital. She had gone pale, her body shivering and holding her abdomen as the sharp pain rose. Rajeev was heartbroken when he was told that Meera had miscarried. He could not even bare to look at her. She was inconsolable. She refused to talk or eat. Rajeev's parents found fault with all that she had done in four months that could have led to this. Rajeev thought it best to send her to her parent's house for some days.
There were speculations that Rajeev had left her. Meera's parents were worried for their daughter, who had become uninterested in life. She stood in her balcony all day, looking at nothing in particular. She blamed herself for the loss, of her child and Rajeev. Her thoughts killed her everyday, what could she have done better?
It took time for Rajeev to come to terms with the harsh truth. He had not yet revealed to Meera that they might never be able to have a child of their own. The doctor had told that her chances of conceiving again were slim and even if she did, it could endanger both her and the child. Before he could bring Meera back, he had to make his parents understand the situation. When he told them of Meera's medical condition, they straight away asked him to separate and marry another. What was the point of staying with her if she couldn't bear him a child. His mother tried to reason with him but he would not listen to any of their logic. As a last resort, he stopped talking to them and threatened to separate from them if they ever asked him to separate from Meera or taunt Meera. At last they relented and Rajeev could go to bring Meera back.
For months, Meera couldn't smile without feeling guilty. She worked extra hard at the house to occupy herself. Her in-laws hardly spoke to her. Even though she did her best to care for them, within the same year both her in-laws passed away. Her father-in-law passed away in sleep and shortly her mother-in-law had a massive heart attack while she was praying. Rajeev was a broken person. Within a year, he lost his unborn child and both his parents. It was now Meera's turn to care and make him happy again.
After a year of mourning, life was back on track for both of them. Rajeev soon got promoted and transferred to another city. They both moved to Assam for his posting. It was then that they discovered the joy of travelling. Once wanderlust bit them, there was no turning back. They saved up all year and went travelling during the summer. Meera started to write about her experiences. Rajeev encouraged her to perceive her hobbies now that she had lot of time on her hand. She taught kids in their locality to read. It brought her immense satisfaction to contribute into the lives of these kids. Taking her interests a little further, she asked Rajeev if she could teach underprivileged children for free. Rajeev was more than happy to let her do that. They saved up more to help in the education of children who belonged to poor families.
Meera had known it all along, when she lost her first child, that she wouldn't be able to have a child of her own again. It was maternal instinct for her. When Rajeev told her three years after that incident, she was prepared mentally. Maybe her purpose in life had always been to touch more lives. For years, they travelled in distant villages of India, discovering new people and traditions and always giving back to the betterment of the people. When they could afford, they took an international holiday, once in five years. It was rare in those day for middle class people to travel abroad, but they could manage it with their savings and investments. Her albums were full of photographs from their travelling. The next few decades of their life went about the same, with lots of adventures and new experiences. With time, both her parents passed away. The circle of relatives she was close to became smaller. It was just the two of them now. Rajeev had grown in his designation, and with every raise in the salary they had increased the money they kept aside to help the children Meera taught. Some children often turned to them for monetary help for higher education, and Meera would invest in their education, always keeping a check on their grades and counselling them if they needed any guidance.
When Rajeev retired, they decided to slow down, keeping in mind their deteriorating physical fitness. They now had all the time together. Since then, every morning she would snuggle close to him to wake him up and then get to the kitchen to get the tea ready. Then they would go for a stroll in the nearby park, meeting people and then going to their laughing club. Once back, she would set to make their breakfast and lunch. They would watch movies, keep talking about their life. On some days, students that she had once taught would come to meet her. She would feel proud of what they had become and insist that they stay for lunch or dinner. They were living a content life. And then one day, Rajeev too left for his heavenly abode.
It was just like any other day. They had their dinner early and lay in bed talking until they fell asleep. She was just not prepared to deal with her life alone the next day. Sometimes she wondered if it would have been any different had she had children. Would her house be filled with more laughter? Would she by now had grandchildren coming to meet her? Then she thought of the numerous friends in laughing club who had children who never came to visit and lived a life similar to hers, only they still worried about their children and felt sad.
She realised that in the twilight years, the only true company that we have is that of the spouse. With Rajeev's demise, that was taken away from her. A lone tear trickled down her eyes as she thought of him. Just then, the door bell rang. She opened the door to find one of her student. It has been long since someone had visited her. This student was a girl she had taught during her early years in Assam. She had got a job in Mumbai and had tracked Meera. Now in her forties, Meera could hardly recognize the girl until she called her Meera Mai. In her life, there was only one girl who had called her that, Ishita. Ishita was shocked to learn about Rajeev's death. She had corresponded with him over facebook some months back. Rajeev had known about her intention to move to Mumbai and meet them. Rajeev had kept it a secret from her.
Ishita had worked her way up the corporate and was now a businesswoman. She had lived for some years in the US where she had met another man who was once taught by Meera. It was then that she had the idea of setting up a trust for kids who were deprived of education because of financial condition. From Rajeev she had taken details of several students benefited by Meera and him. One of them had a plot in an area not more than a few kilometers from the main city. Another one offered to build make-shift classrooms. The idea kept increasing and soon they had the blue print of a school with residential facility. Many of the students Meera had taught, could make it to higher education or were themselves into teaching and volunteered to help in the trust. All they needed now was a principal. When she had told this to Rajeev, he had suggested that Meera would take it up. It was all to be kept under wraps until Meera's birthday that year, which happened to be the same day.
Meera had forgotten all about her birthday. Ishita asked Meera to check her postbox. It was something Rajeev had planned long back. They hardly got any letters and Meera never checked it. It was Rajeev who would clear it. When she opened the mailbox, she saw an envelope. It had a letter in Rajeev's writing.
"To the headmistress,
Life is not about how many children you bring into the world, it is about about many children in the world you bring to life. Today, the children whose life you touched have come together to keep your work alive. Who said our names continued with our progeny? It continues with the deeds we do. Here's to the second innings! I know you will do a great job as a headmistress, bringing light to even more lives. I will always be with you in whatever you do.
Love,
Rajeev
Meera could make out Rajeev had written this before he left her, but somehow he knew that she needed something to continue living. How right he was! He was always there with her, giving her hope when she lost all, making her smile when she did not see a reason to and now giving a purpose to her life when she had no will to live. She realised that in twilight years, all that you have is the love that you shared.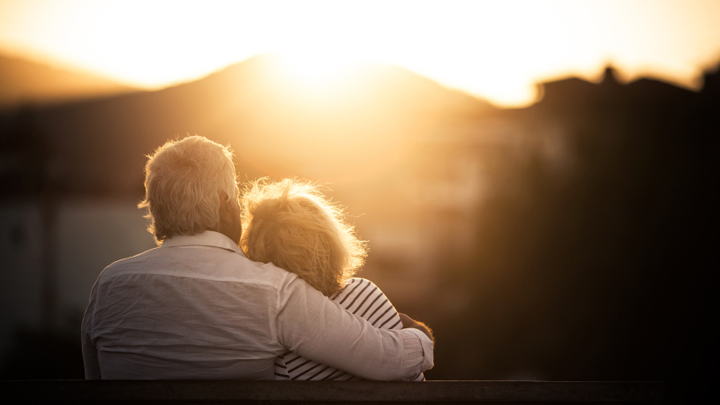 Image courtesy