"Baba, will you send me a pink frock for Diwali?" his 6 yr old daughter asked him over phone.
" I will bring it for you myself." Manoj assured her.
"Did you talk to Saheb? Is he going to give you a bonus?" His wife asked him, worried.
" I will talk to him today. Did Munna get his pay?" He asked about his son.
" That wretched Kumar has still not paid him. My poor son works so hard and Kumar and his bosses gobble all the money. They will go to hell." She cursed.
"Ok, I will call you later." He hurriedly cut the call when he saw Bharadwaj, the secretary of the building, approaching. He rushed to the gate and saluted him.
Bharadwaj was returning from his morning jog. His wife had started nagging him about his ever increasing waist and huge belly and made it difficult for him to sleep past 6. He hated jogging but he had no choice but to step out of the house. He would go to the jogger's park and sit on the benches and on his way back, empty the water bottle on his clothes to fool his wife. However, his wife had grown suspicious and accompanied him and he had to jog. He was breathless by the time he reached the society gate and was angry on his wife. Manoj refrained from asking him about the bonus. He was now an expert at gauging Bharadwaj's mood.
" Manoj, society has some rules. You have not completed even 3 months. How can you demand a bonus from us?" Bharadwaj asked him.
Bharadwaj and a few committee members were going through some papers in the society office that evening. Manoj had mustered courage to ask, thinking that Bharadwaj wouldn't insult him in front of other members. Diwali was just a day away and he had yet to send anything home.
" We gave you this month's salary. That is enough" remarked Gohil, another member.
"Saheb, I have kids at home. I cannot buy them gifts from my salary. It is barely enough for our existence" pleaded Manoj.
"No Manoj, we cannot give you a bonus. What if you just go away to your native and don't return. You have not worked enough time to earn a bonus." They dismissed him.
"What happened? They refused you right?" asked Manish.
"Why can't they just give me a bonus?" whined Manoj.
"They are just heartless. The more money they make, the more they sell their soul."
"How will my family celebrate Diwali. They don't even have clothes or chappals?"
"There is a way. You know Sharma ?" Manish asked.
Manoj squinted at him and wondered what he was about to get at.
Manoj had moved to the city 3 months back. He had to sell his ancestral lands to pay the loans that his father had taken from the landlords. The land wasn't much fertile anyway. He had stayed with his distant cousin in a small chawl. After bribing the agent at the security services, he had finally landed a job in Charmi apartments. The building had a small quarter at the back which he shared with the night-shift watchman. Manish was Sharma's driver. He sometimes chatted with Manoj. The other drivers usually considered themselves a class upper to him and were not so open to him.
The day of Diwali dawned. The scale of celebrations was beyond Manoj's imagination. He had heard such tales from the men who worked in cities but witnessed it the first time. Before sun rise the building had bustled with life. The women had set out to draw beautiful rangolis. The children welcomed the Diwali morning with firecrackers. The cars were decorated with garlands. As the sun set, the whole city lit up.
Looking at the pretty dresses that the girls wore, Manoj thought of the pink frock his daughter wanted.
Seeing the boys lighting crackers worth thousands of rupees, his heart went out to his son who had to drop out of school to support his family. His son, who worked in a small unit manufacturing crackers.
The women were adorned in jewels and rich saris while his wife hadn't seen a new sari in ages.
The men played cards and burnt up money, while his children didn't have even footwear.
They splurged on a million lights while Manoj's house would be dark.
They frolicked as a family while he ached to see his own.
"You know Sharma right?" Manish's question came back to him.
"Yes.. your boss. Will he give me a bonus?" Manoj had asked innocently.
"You are a fool. These people never empty their pockets for the likes of us. You know Bharadwaj's son bursts a rocket worth rupees seven thousand! Can you even imagine that? A single rocket! Yet Bharadwaj wouldn't part with a bonus of five thousand. You have to snatch your money from them."
" What do you mean?" Manoj had asked out of curosity.
"See that Sharma hoards his money at home. I have seen his wife take out cash once. They stack it in the cupboard of the inner bedroom. During Diwali, they keep the house open for Laksmi to enter they say! They will all be down, playing cards and celebrating. You have to go and simply take out the money."
"If it is that easy, why don't you do it yourself?" Manoj had asked suspiciously.
"You don't use your brain. They would question me first. I keep going in and out of their house. No one would suspect you. The other watchman who does night shift will be questioned." Manish had divulged his plan.
"No, no I won't rob." Manoj had refused.
"Then don't. Let it be. I thought of helping you. If you can't do it then don't. Sit and cry in a corner." Manish had walked away.
His wife called. He could hear his daughter wailing for a pink frock in the background. A lump formed in his throat and he disconnected the call. He went to look for Manish.
Manish was sitting at the paan stall outside. Seeing Manoj, he smiled.
"Manoj bhai, changed your mind?" He quizzed.
They knocked on the door of the small room. His wife woke him up. Manoj limped to the door. Before he could gather his senses, they snatched him by the collar and huddled him in the police jeep, thrashing him with their lathi.
He had done as Manish had instructed. He had sneaked into Sharma's flat. He found the money where Manish had told him to look for. Packing the money into the bag, Manoj had reached the railway station. As per their deal, Manoj had handed part of the money to Manish and made away with the rest. He had thanked Manish for his help.
He had come home to his family. He had bought the pink frock for his daughter and clothes for his son. He gifted his wife a sari and had also brought lot of sweets. He still had money left with him and thought of doing some small business in his village. Everything had looked so perfect.
He had committed sin but the smiles of his family made up for his guilt.
He had carried the robbery perfectly. One thing he didn't know was that he was being watched.
Manish never told him that Sharma's house was under CCTV protection.
They had started tracing him after Sharma's wife discovered the robbery and they checked the footage. Manish was never under the scanner and made away with his share.
P.S : I wish a very happy Diwali to all of you. There are many like Manoj in our surrounding. I just hope that as you spend your money on crackers and lights, you give a thought to how the same money could light up someone's life. What is Diwali if you cannot bring light into someone's life? Light smiles this Diwali.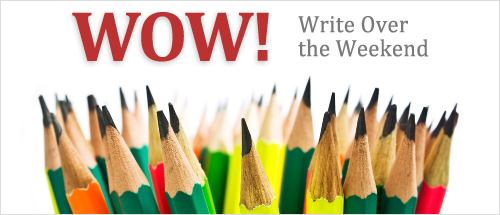 Write Over the Weekend theme for this week
This time your entry must contain, 'One thing he/she/they didn't know that they were being watched.'