"Indus hospital" I told my driver as I hurriedly got into the car. It was a cold December morning and clouds formed from my breath as I sighed repeatedly.
I had woken up on a Christmas morning to the phone call from my boss. It was 3 in the morning and I had already given leave for the week. I picked up his call reluctantly.
"The girl is very critical. She is going to die. I want you to do a story before she dies so that we can be the first to air it." It was his crisp instruction with no mention of my holiday. This was a very important assignment. Of course I could not ruin my chances by reminding him that I was on leave. I was the youngest and the newest member on the team and this was an opportunity that I had to grab with both hands.
The name of the victim had been kept under the wraps as with all rape victims. I had to find out all about her and make a story that would make the nation weep. Her plight had taken the country by storm and there were nation wide candle marches demanding justice for her. The gruesome violence on her had given goosebumps even to the most hardened crime journalists on the team. Senior reporters had been handed the responsibility of handling this news but now it was all coming to an end and I had to make sure that she was remembered by the story we did.
I climbed out of the car and was happy that there no other vans outside the hospital. So boss had been given the inside information. The parking space was a little away from the hospital and I walked to the hospital with a camera and my recorder. I did not want to draw attention by taking along a cameraman. I just planned to snoop around and find information about her house and schooling so that I can do a detailed story there. I was walking to the entrance when I saw the blue swift. I checked the number plate. Damn! He was here before me.
If he had dropped in before me, he was already leading. How I hated him! Rajnish was the reason that made me leave the previous job. We had joined as interns and had become very close in the 3 years that we worked there. The erratic hours and long journeys had eventually made us more than just friends. I even thought he was falling for me. I too had started depending on him and trusting him with all my assignments. So much that I handed him my report to submit when he was going to submit his. I was busy with a story and out of town. When I came back, he was promoted for his excellent story. I was happy for him but disappointed that I didn't make it. I was in for a rude shock when I saw my story featuring under his name! It was more than I could take. He tried to explain that there had been a mistake while sticking the labels and gave improbable excuses for not backing out of the promotion. It was too much to see him as my boss and I resigned..
I did not want him to steal this too from me. I would have to change my strategy. I knew he would think the same as me. He would too go on to trace her early life. I had to do something more dramatic. I took the stairs and raced to the top floor. I thought more clearly when I was exercising physically. I reached close to her ward when I thought of unethical though dramatic move. I would take her picture! What could be more moving that her image itself! I would then go on to search for her previous photographs and present a story of how a beautiful girl was damaged..
The guards were stationed heavily around the floor but the ICU was at the far end. No one was present there. They perhaps expected everyone to take the lift to the top floor. I stealthily walked close to the ICU. I sneaked into the room. The nurse was fast asleep with heavy books by her side. I knew I had no more than a few minutes. I quickly took out my camera and took a few snaps. I was out within a minute but hung around to see if I could find anyone I could interview. There was a buzz within a few minutes and a staff of doctors and nurses were rushing to the ICU. Surely someone from the family would be among those who followed.
I sat on the lone bench on that floor, thinking of the next action. The situation was sinking on me. She was probably going to die today. She looked too frail to live. I turned towards the ward.
I caught him looking at me.
His expression was stone faced. He did not let out any emotion. He had deep hollows surrounding his eyes. How many nights had he been here? I did not look away from him. A fresh stream of tears flowed from his eyes.
"She is my sister..." he said between sobs and hugged me. I was holding on to a man I once had almost loved, who was now too broken and was acting strong.
"Delete it.." He pleaded with me, his eyes boring deep into mine. He saw me!
I never felt more ashamed of myself.
I was taking photographs of a 16 yr old school girl who was brutally raped and was on verge of her death just to chase Rajnish in this competition.. How could I not see the pain? When did I stop being human? I deleted those pictures which were too disturbing. How did I just click them without any emotion?
This post is a part of
Write Over the Weekend
, an initiative for
Indian Bloggers
by BlogAdda.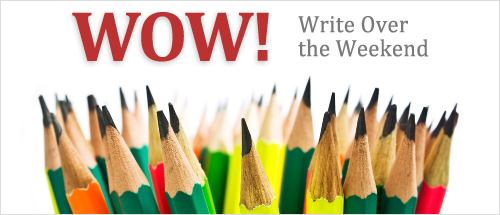 This time your entry must contain, 'I caught him/her looking at me.'